Your Passport To Art
Get your Passport To Art stamped and any studio in the tour or sponsor locations to be entered to win.
How Does It Work?
It's super simple... and very transparent!
Our goal is to get you to visit as many of our studios and sponsors as you can during the Uxbridge Studio Tour Weekend.
Find your Passport to Art on page 3 of the tour guide... or download and print it by clicking on the image to the right.
Then visit studios and sponsors to collect stamps.
Once you've filled up your passport, drop it off at a studio or sponsor and they'll make sure it gets entered into the draw.
The Prize
There may be more than one winner... we're still working that out.
But, at minimum, there will be one grand prize winner who will be presented with a $1000 gift certificate towards work by any of our 2018 artists.
Download Your Passport Here | CHECK BACK EARLY SEPT. 2018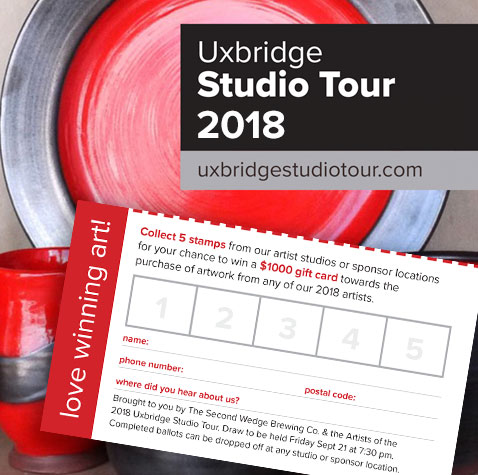 ---
THE NECESSARY DETAILS
The prize gift certificate has no cash value, but can be redeemed for art at any individual artist or combination of artists.
If the art you want to purchase exceeds the value of the certificate, you're on the hook for the balance, which may include HST.
You can enter more than one passport, but please be honest and only do so because you've visited soooooo many studios and sponsors.
With the entry of a Passport to Art ballot into the draw, you agree to have your name and email address added to our mailing list. In support of transparency, our goal is to help you buy more great art more often, so we may email you about the next year's tour a few times. Any questions about this? Please contact us.