No car? No problem. Take the trolley! Visit studios and sponsors without the fuss of driving. A fun new way to enjoy our studio tour. Read on to learn more.
Don't Be Off Your Trolley - Take a Ride
The Uxbridge studio tour, the September Fall tree colours, and our lovely country roads are an excellent combo for a day's drive around the township looking at art, but what if you don't drive? Then the tour is a little trickier to access.
We on the studio tour were very inspired this year by the Springtide music festival, which happens here in June, appreciating how they did all that they could to make this festival available to non-drivers… providing facilities for bikers and a free Trolley bus to get around the venues… Maybe we could try that too?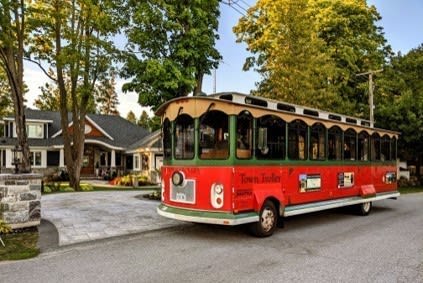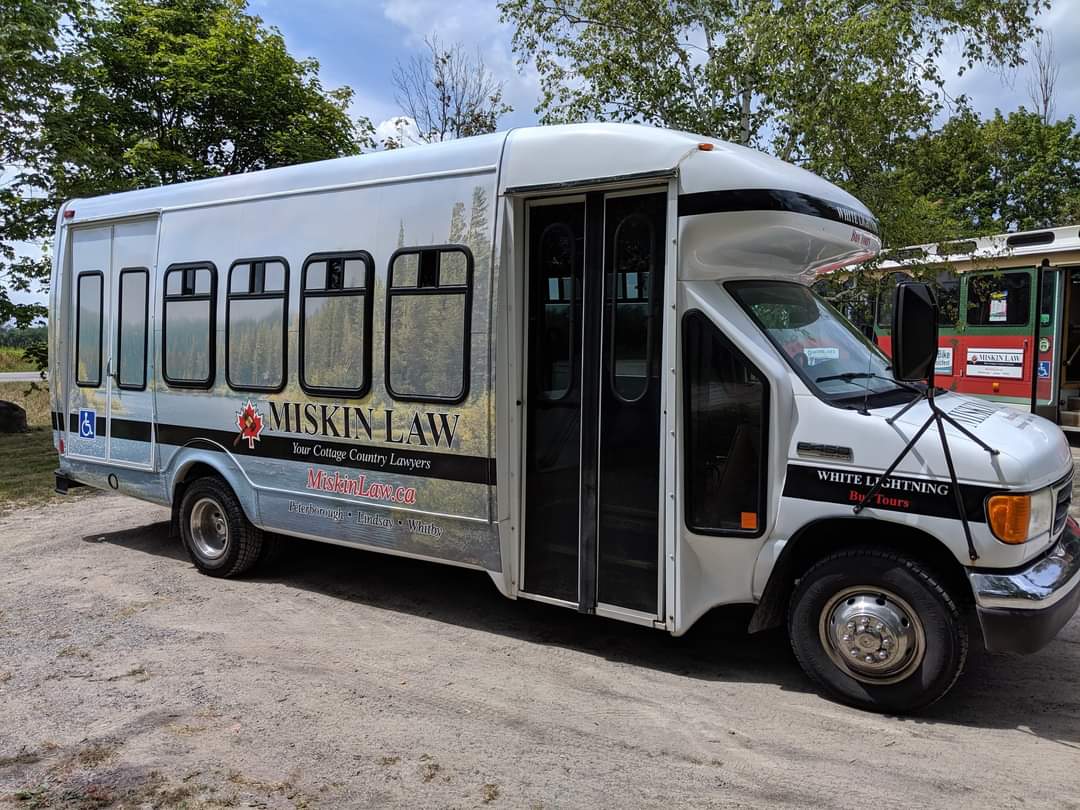 We contacted Mike Bryant, who runs our excellent Town Trolley bus - could we get a bus around our much more geographically dispersed artist's studios? Mike was sure we could and set about creating routes and devising a plan. With his help, we have come up with some options to get to our venues for this year's Studio tour – with no car!
Trolley & Bus Plans are for Sunday Only
While we'd love to have the trolley available for Saturday and Sunday, we thought we needed to get some feedback from our cherished visitors first. So, for this year we will Mike will operate the bus and trolley service for Sunday Sept 17th.
For the sites that are close to town, we are running a continuous loop on the Town trolley, that you can hop on and off all day, with each loop taking about 20 minutes. Mike plans to get to the following sites and sponsors on the loop – sites 6,8,9,10,11,12,13,14 and 15, and sponsors Little Thief Bakery, Blue Heron Books, Passionate cook, Tin Cup café and Urban Pantry, and at lunch time, extend the loop to include Slabtown, Banjo and the Second Wedge for more refreshment and fortification!

 North Loop

The White Lightning bus will do a 3 hour tour on the Sunday morning around the northern sites -  sites 16, 17,18,19,20,21 and 22, plus a stop At Banjo Cidery, with 15 minute stops at each site.
On the Sunday afternoon, the White Lightning bus will do a 3 hour tour around the southern sites - 1,2,3,4,5 and 7,  with stops at lovely sponsors Slabtown, and Annina's. Both tours start and stop at The Second Wedge Brewery. Each of these stops will also be 15 minutes.
How Much Does the Trolley Cost?
We are delighted to announce that, thanks to the generous support of Central Counties Tourism we are able to offer this option free of charge! That said, there is a couple of small thing we would like to ask...
Your Feedback is Requested
Your feedback means the world to us. Please let us know what you think of this new way to navigate the tour. How was timing? What worked about this service? What could be improved?
Donations to Support Young, Emerging Artists
Mike promises us much entertainment and information on the buses – It's going to be fun!
Though all the trips and tours are free, we are requesting donations, with funds going towards our new Tour priority:  raising money to sponsor two young emerging artists, to take part in the 2024 tour. Your support in this project will help to ensure the future of the tour by supporting the next generation of talented local artists.
Book Now for North & South Bus
Spaces for the North and South tours on the White Lightning bus are limited, so if this is something you'd like to do, contact Mike B at 1-800-979-2913, or 705-340-9880 and reserve your spot!
Don't be off your trolley! Book your spot now. And don't forget to follow us on Instagram or Facebook to stay up-to-date on what our artists are getting up to.