OFF KILTER is a show about community, kindness, friendship and celebration that can grow out of shattering personal loss. OH and it's also about that crazy Uxbridge tornado! 
A Community Ravaged By Mother Nature
On May 21, 2022 an EF2 tornado touched down in Uxbridge, Ontario.
The tornado was embedded in the edge of a derecho — a widespread windstorm associated with a line of thunderstorms — that developed near Sarnia, Ontario, and moved northeast across the province into Quebec.
At 1:15 it hit Uxbridge, with wind speeds of 195 kilometres per hour. Thankfully, only a few minor injuries were sustained, but several homes were lost.
Much of the town was without power for days as lines were repaired. We cooked on campstoves, shared coffee & generators with neighbours, and cut down the wreckage of toppled trees.
After years of pandemic isolation, the opportunity to reconnect, despite the circumstances, seemed to energize the town.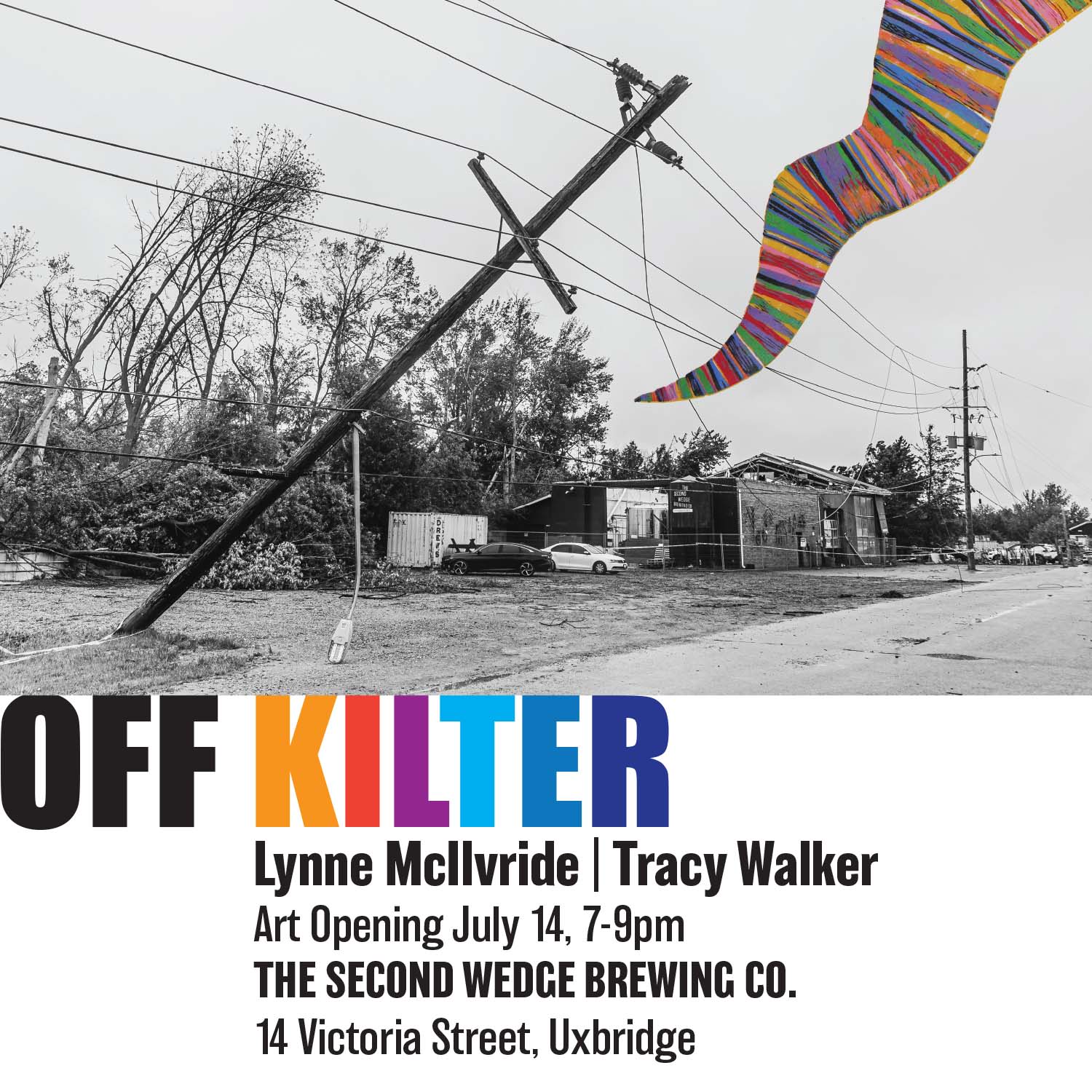 It's Time To Raise a Toast
OFF KILTER marks the official reopening of The Second Wedge, a thriving microbrewery devastated by the the tornado.
Tracy Walker's photographs and Lynne McIlvride's constructions touch down in slightly different places: Tracy's photographs were taken within 24 hours of the storm with a journalistic determination to document the aftermath within her community; Lynne's constructions were part of a long-winded series in which she used tornados to describe a shattering personal loss.
This show however is anything but discouraging: there is kindness in the documentation and humour in the metaphor.
So hats off to microbreweries and artists and everyone else dragged out of their orbits and dropped into Oz. Let's raise a glass to the roof over our heads as we hit the ground running.
OFF KILTER Art Opening - The Second Wedge Brewing Company - July 14 7-9pm
Please join Lynne McIlvride, Tracy Walker and the fabulous team at The Second Wedge Brewing Company as we celebrate the resilience of the human spirit, great art, and outstanding craft beer!