Creating art has been a lifelong journey for Mark Ruchlewicz.  It manifests in both thought provoking paintings as well as music – typically with obscure time signatures. For 30 years, Mark's career teaching art provided him with inspiration and a means to finance both his passions. His paintings have been featured in group and solo visual art exhibitions and his images have been published around the world.  When he's not painting, Mark can be found writing, recording and performing original music.
---
Mark Ruchlewicz's Project 'Obtuse Sounder'
Born of Mark Ruchlewicz's project Obtuse Sounder, the music video titled Wake Up Dead pairs the visual and the musical. "I was inspired to write a bass line around a rather unusual 9/4 drum beat I had developed. I then had the extreme good fortune of introducing this arrangement to an incredibly talented guitarist, (who wishes to do a Banksy and remain anonymous). 
This guitarist's contribution took the song to an entirely new level. However, you aren't going to dance to this song.  In fact, it is difficult when standing to tap along to it without falling over.  

While it has a lot of familiar elements that draw you in, it's a bit like a picture that won't stay level. You have to constantly adjust.  
This can take the listener in an uncomfortable direction." And while not recommended if you're after the mainstream, being free to venture into relatively unexplored song writing territory has its own rewards according to Mark Ruchlewicz.

The video mimics the tension in the song, meshing cityscape time-lapsed video and contrasting images with the unusual drumbeat.
He is looking to add four new unreleased original songs on his YouTube channel this year.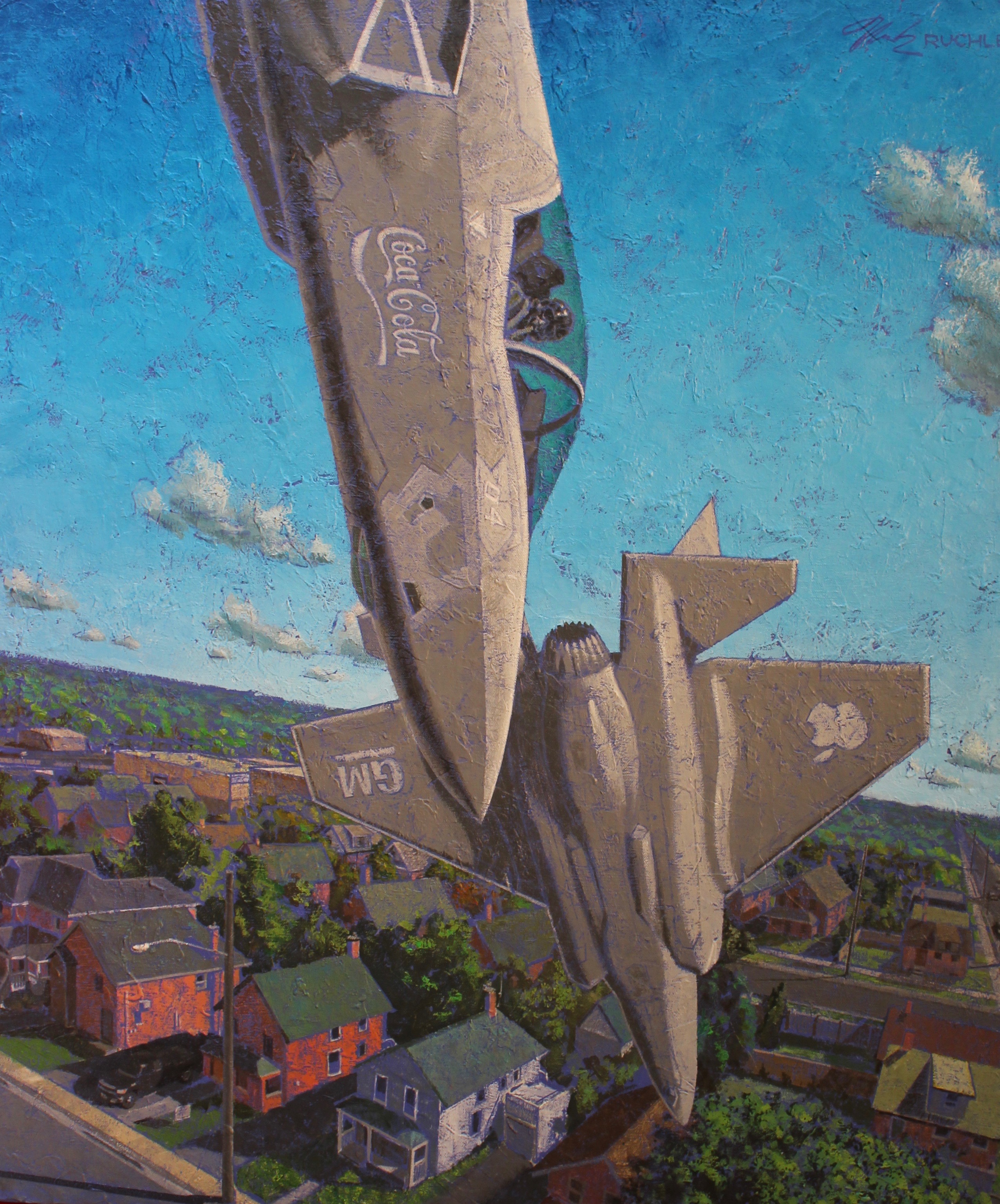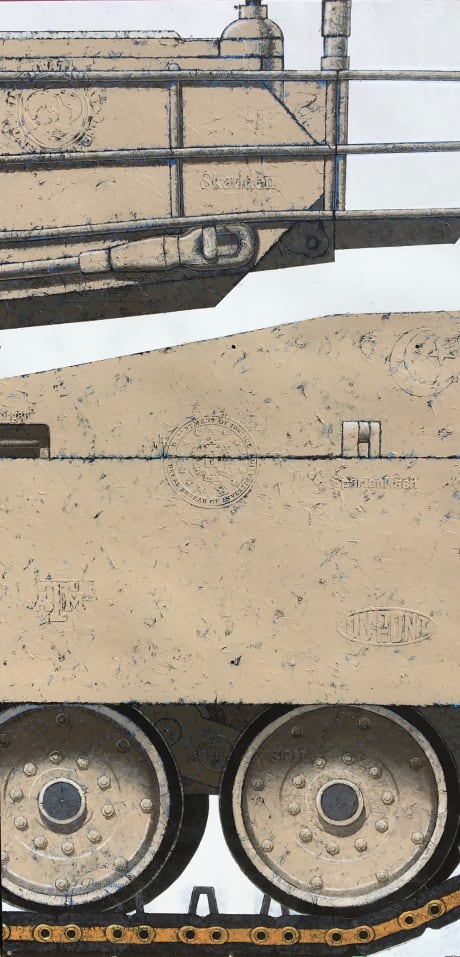 Mark's Thought Provoking Painting Style
Participating in the Uxbridge Studio Tour this year, Mark Ruchlewicz's painting titled "Your Drunk Friend Has the Car Keys" was to be featured on one of the 2020 tour's brochures.  However the recent Covid-19 restrictions has caused the tour to change directions and brochures will take on a different look this year.
Nonetheless, this painting was first displayed at the Next 2 art exhibition held at the Arts and Letters Club of Toronto in 2017 where it captured Silver Place. 
Somewhat cheekily, there is no image content in the painting that connects the picture to this title as the image illustrates two modern jet fighters adorn with corporate logos on a collision course with suburbia.
According to the artist, the title simply refers to a situation in which one should intervene…is the viewer to intervene?
This concept of including corporate logos in his paintings is continued in his latest painting "Low Visibility", a life size profile view of an Abram's A1 tank. 
Logos representing the tanks manufacturers as well as government and educational institutions, the mainstream media, NGO's, the entertainment industry, various religions, political parties and financial and judicial institutions are all included, in relief on the tank, albeit camouflaged.
The use of logos in this way is an attempt to expose the true breadth of our society's involvement in the war economy suggesting we examine the relationship between capitalism and war. When complete the image will be 8 feet high and span 32 feet in length.