On Friday September 20th, the winner of the 2019 Uxbridge Studio Tour's $1000 Passport to Art raffle was drawn at The Second Wedge Brewing Company. This year's winner is Susan Allen of Sunderland. Congratulations Susan!
---
Susan and six of her friends visited an outstanding 10 studios in just one day! That's clearly the sign of someone who loves art. 
A couple of Susan's friends found the pace somewhat overwhelming but they managed to see the work of multiple artists they had never visited before, and they all had a terrific day out. 
A few of the artists they visited this year were Mark Puigmarti, Daniella Boerhoff, as well as Fly Freeman and Ross Colby. 
I asked Susan which artist (or artists) she thought she'd purchase art from using her prize, but there was so much that she enjoyed that she just wasn't sure yet. 
Susan has until next year's Uxbridge Studio Tour on September 19th & 20th to spend her prize money on artwork by any of our 2019 tour artists.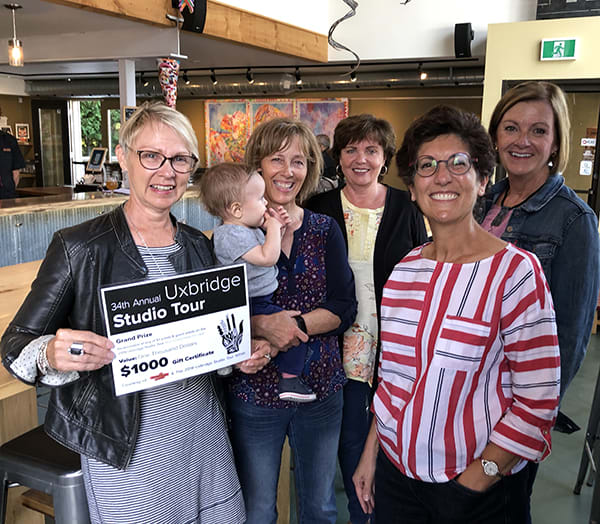 All of the Uxbridge Studio Tour artists would like to thank Susan for bringing her friends out to explore the world of Uxbridge art, and send their heartiest congratulations.
The Passport to Art prize draw is made possible thanks to our Lead Sponsor, The Second Wedge Brewing Company. If you'd like more details on how you could enter to win in 2020, visit our WIN ART page for details.
Thank you to everyone who entered. We hope we'll be seeing you again at the 2020 Uxbridge Studio Tour!