This year artist Jennifer Wolfe will be the guest artist of potter & ceramic artist Della Cavanagh at studio 19. We thought it was time to find out a little more about Jennifer and how she came to be a talented metalsmith and jewellery designer.
---
Jennifer's Winding Career Path
Jennifer Wolfe is frequently asked how she came to become a goldsmith & jewellery designer.  This is her 3rd career and it definitely wasn't achieved in a direct path.
Initially Jennifer went to school for corporate marketing which is what she did professionally for a number of years. She loved this field but soon discovered that its a tough industry. Corporate marketing required a lot of hours and, at the time, insufficient financial reward to balance out the amount of personal sacrifice demanded.
Life is too short to not be doing things you are passionate about.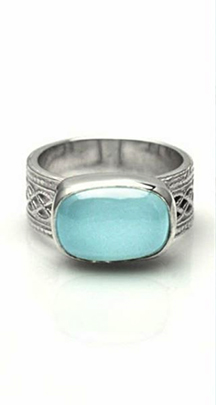 Jennifer left the marketing world behind when her youngest son Christian was born.  "There was no way for me to balance Motherhood and the Marketing world successfully".  Something had to be sacrificed and for her and it wasn't going to be her children.  Shortly after Christian's birth Jennifer's husband decided to open his own Health & Safety consulting and software company so she helped with that.  "I did the books, managed the finances, worked behind the scenes making us fire on all cylinders while still being available for the boys.  It was a great compromise but not personally fulfilling at all.  But that was ok.  Or at least I thought it was". 
Finding Her Passion for Creativity
Fast forward 8 years, Jennifer's Dad passes away very unexpectedly at the age of 60 from a massive heart attack.   "That was my wakeup call; that was my Aha moment.  I was not living the life that I wanted.  I had known it for a while but losing my Dad really brought it back up to the surface and made it very real". 

Life is too short to not be doing things you are passionate about. 

She knew that she wanted to express her creative side and began to dabble in some night school courses. That's when she became interested in metalsmithing.  At that time she also began taking some wonderful courses in lapidary. "Once I started perfecting my skills cutting cabochons I knew I wanted to take it further".  Once Jennifer discovered the Georgian College 3 year Jewellery & Metals program the rest, as they say, was history. 

Jennifer was 39 when she went back to school. "It was scary starting over but I'm forever grateful for being a person who doesn't like to quit".  If there's one thing you can say about Jennifer Wolfe it's that she's  stubborn to her core. Being challenged by this incredible program was just what was missing in her life. Her imagination was fired up and her passion for hands-on creativity was ignited.   

At times Jennifer wishes that she would have started this path 20 years ago.  There is just so much to learn when you begin working with metal and growing your own unique style. Of course she can never learn it all but life is about the journey and we are delighted to have the opportunity to watch Jennifer as she creates new jewellery pieces,  builds on new skills, and finds new stones and styles to work with. 

"I will never regret my change of course and I'll forever be grateful for that moment of clarity.  My only regret is that my Dad isn't here to share this with me.  I know he'd be proud of me because I'm proud of me". 
Find out more about Jennifer Wolfe on her artist profile page and be sure to visit her at Studio 19 during the 2018 Uxbridge Studio Tour.