Colour has always been Joanna Malcolm's muse. When painting she excels at finding those random gatherings of hidden pockets of hue but more recently Joanna has been exploring the possibilities of mixed media, and the results are fabulous!
---
From Paint to Reclaimed Materials - An Artist's Exploration of a New Medium
We've always been huge fans of Joanna Malcolm's work. Every year we're delighted to see the incredible diversity in her work. From landscapes to abstracts, her bold use of colour is always striking and beautiful. She truly creates artworks for every taste.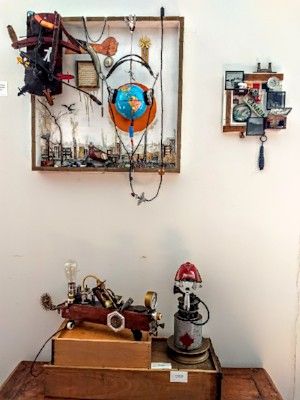 Joanne has become well known for adding a touch of whimsy to her bold colourful abstracts, as well as her impressions. "I apply paint to the canvas and react to the mark allowing the paint to take me on a journey". 
Recently her passion for art has expanded beyond the world of paint and canvas. Always exploring new techniques and mediums she has started creating delightful mixed media works incorporating repurposed objects.  The laying of materials, mixing of colours, and arrangement of unexpected objects allow her to tell unique story's about the world around us and about the artist herself.
Meet Joanna Malcolm at Studio 27 during the 2018 Uxbridge Studio Tour.