Lynne McIlvride is a Mixed Media artist based in Uxbridge, Ontario, and featured artist of the 2018 Uxbridge Studio Tour. Lynn recently reacquainted herself with her older, more three-dimensional symmetrical style in her latest commission for Our Lady of Perpetual Help Catholic Church in Toronto.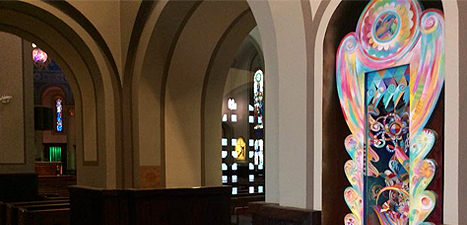 ---
This fabulous piece is the first of two constructed paintings by Lynne McIlvride designed to fit into niches in Our Lady of Perpetual Help Catholic Church on Clifton Street, Toronto. "In it I both reacquainted myself with an older more three-dimensional symmetrical style and happily experimented with a little bit of relief wood carving on the frame".
The church is open most days for visitors; be sure to drop in to see this unique piece if you're in the city.
My constructed paintings are built up of layers of paper, canvas, glass, all manner of paints, gold leaf, found objects, and others materials that I can no longer recall. Some layers conceal and others reveal but in the end each work is a whole world -- a portrait of "all there is, seen and unseen"
Before Lynne begins the second part of this two-part commission, she will have some of her paintings at St. Paul's Anglican Church in Uxbridge. Lynne's work will also be on display at a reading of the gospel of Mark by Ken Welsh on Sunday, March 4 at 3:00pm. The reading will also allow a preview of some of the work that will be at Lynne's annual Easter Weekend Art Show March 30 - April 1, 2018.
Previous
Page 1 of 2
Next
Visit Lynne's profile page to learn more about this talented artist's work and where to find her sun drenched studio.