The Uxbridge Farmers Market
Visit our charming town - Uxbridge the Trail Capital of Canada - and enjoy a lively family-friendly market atmosphere with Uxbridge's finest farmers, prepared food vendors, artisans and musicians.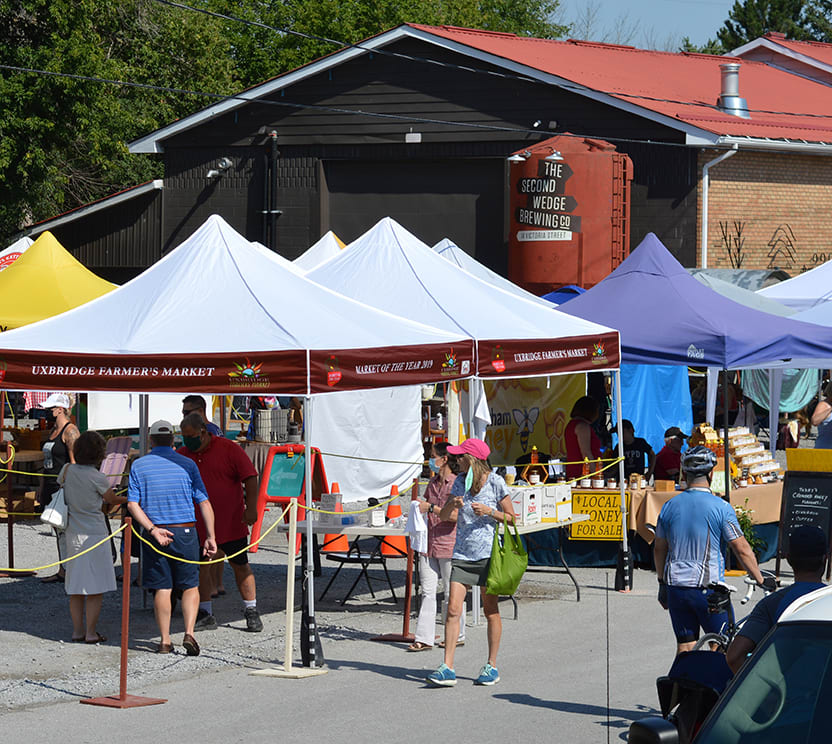 Freshest Ingredients & Happiest Producers
Shop fresh vegetables, fruit, meats, cheese, honey, maple syrup, cider, herbal tea, wild foods, plants, flowers, preserves, baked goods, coffee, bbq, pizza, handcrafted soap, and more!
2019 MARKET OF THE YEAR BY FARMERS MARKET ONTARIO
The Uxbridge Farmers Market is supported by two outstanding local businesses the Second Wedge Brewing Co. and H. H. Goode & Son and is a much loved and utilized by our community.
Whether you are looking for inspiration for dinner, or a snack before heading out to see great art, the Uxbridge Farmers Market has got you covered!
VISIT UXBRIDGEFARMERSMARKET.CA FOR MORE DETAILS
To find out more about The Uxbridge Farmers Market visit their website, or drop by and see this wonderful sponsor location for yourself. 
14 Victoria St., Uxbridge ON
Every Sunday 9am - 2pm | May 17 to Oct 25, 2020