Stuart Blower
Stone carver Stuart Blower has been actively involved in many facets of the Uxbridge art community. Stuart's beautiful stone carvings are perfect for indoor display or out in your garden.
ABOUT THE ARTIST
I see things and shapes in the stone that I look at. For me the ability to change a lump of stone into a specific shape is very satisfying. It's a control thing, I enjoy the fact that I can shape the rock to my will and create or release a shape where none existed before.
My first piece was a small, myth inspired soap stone carving affectionally named Igor, who has a permanent place in our living room. He took me a year to complete, working with a wood carving knife. I finished him just in time to go back to Bancroft, Ontario to buy another piece of soapstone for my next project, which also took a year to finish.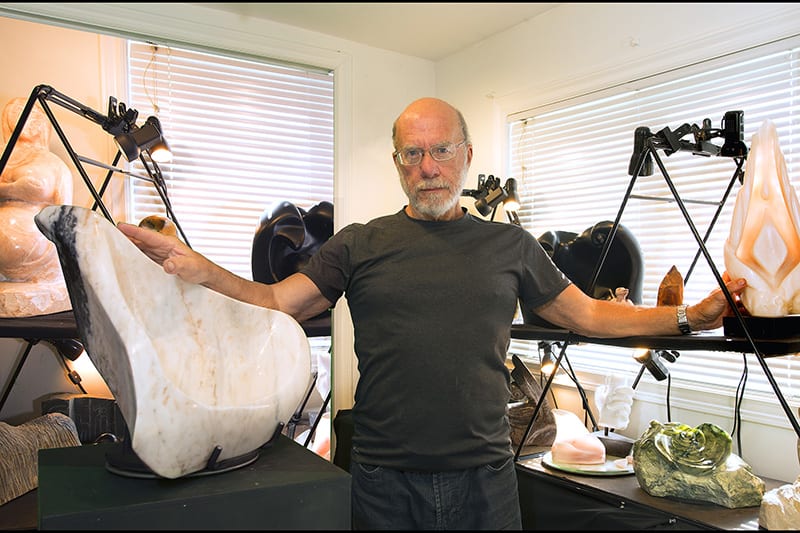 I have never had any formal arts training. My education was in nuclear physics and chemistry. I am primarily a self taught artist and innovator who manages to combine an expert technical background in visual media, with a need for an artistic and emotional outlet.
I learn from reading and watching and then doing. I innovate and adapt ideas into my own workflow and needs.
My professional background in photography and graphics gives me a good basic understanding of how to approach the three dimensional aspects of stone carving.
For 2020 Stuart will be welcoming guests to view his work at his outdoor studio/gallery. All tours appointment only.
CONTACT STUART TO BOOK YOUR TOUR
If you would like to arrange a tour of Stuart's studio, purchase a piece of work, or request a custom commission piece, contact Stuart directly through his website, by email, or by giving him a call.
710 Foster Drive, Uxbridge, L9P 1R2
stonedevilstudio.com
stuart@sbvisualmedia.ca
905-649-0407