Mike Wilkins
Artist Mike Wilkins creates eclectic 'industrial meets modern' furniture & sculpture inspired by nature and incorporating a variety of salvaged, reclaimed and upcycled materials.
ABOUT THE ARTIST
Mike Wilkins is self-taught artist who gradually discovered he had a knack for making things work with whatever was at hand, without over complication.
This ability carried forward into his future work with heavy equipment as well as his early art pieces.
Welding, joining cutting grinding and reshaping exiting materials into new forms developed into a passion. This passion has lead to Mike's current love of turning discarded items into beautiful furniture pieces and art.
Items found at the side of the road, or lying discarded in a machinery workshop will suddenly spark his imagination and begin reforming themselves in his mind, then into reality.
Since moving to Uxbridge in 2007 The Uxbridge Studio Tour has played a pivitol role in allowing Mike to get to know many of the talented artists that live in the community, and to experience the vast array of incredible art that is being created in his vicinity. "It is both an honour and a joy to be a part of the Uxbridge Studio Tour".
Over the years Mike has participated in the Uxbridge Studio Tour as guest artist and as studio artist since 2016.
Mike will be sharing his work and his studio with guests virtually this year. To experience Mike's Virtual Studio Tour come back to this page in September.
Contact Mike
If you would like to learn more about Mike Wilkins studio, purchase a piece of work, or request a custom commission piece, contact Mike directly through his website, by email, or by giving him a call.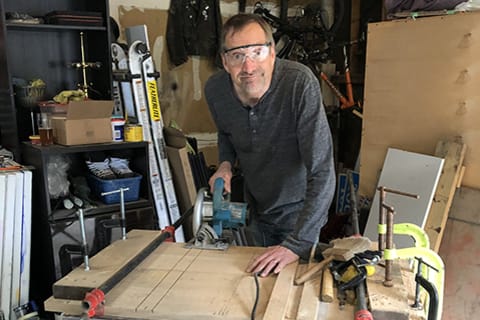 Previous
Page 1 of 3
Next