Constance Laing
Sadly, in the spring of 2021 we lost our good friend, the talented Constance Laing.
It is with the utmost respect for this beautiful person and talented artist that we invite you to read through Constance's 2020 artist bio, enjoy the images of Constance and her work, and view the beautiful virtual studio tour she created last year with her good friend Tracy Walker. 
Experience Constance's Virtual Tour
ABOUT THE ARTIST
Constance Laing offers an elegant and refined approach to classic surface finishes within the context of contemporary design. Specializing in paint, patina, surface gilding and verre eglomisé she brings 20 years of freelance experience to residential and commercial projects.
Constance received her fine art degree from the Emily Carr College of Art and Design in Vancouver. This was followed by continuing education in Illustration and Design at Sheridan College and subsequent employment in the book design industry.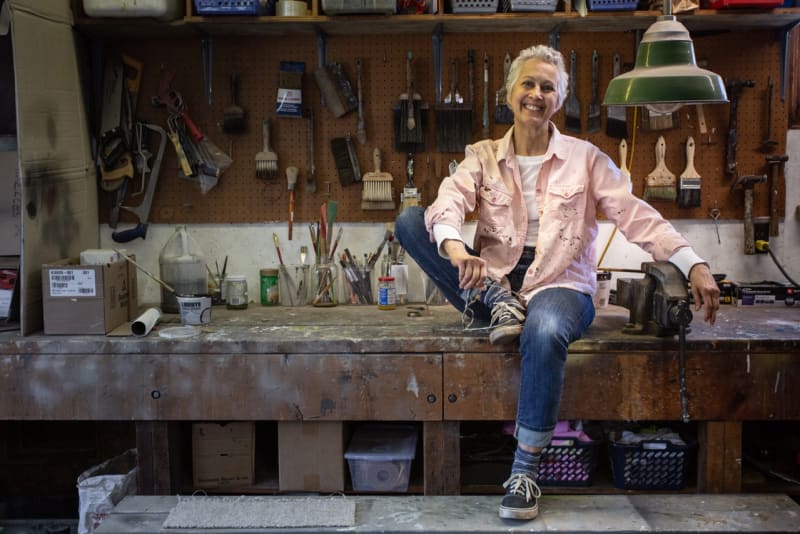 The product of these experiences has provided the basis for expertise in elegantly organized artistic chaos. This renders surfaces with complex color harmony and textural nuance executed with restraint.
Experience as a set painter for the Canadian Opera Company and feature films has provided for a wealth of experience in preparing surfaces and the practice of "faux finishing." 
In 1995, Constance studied patination under renowned American sculptor Ron Young. Through the application of chemical processes to metal surfaces, Constance has achieved a variety of dramatic signature finishes. 
As a member of the Society of Gilders, Constance has participated in restoration projects and workshops under the direction of master gilders Jill London, Marion Ellner, and Michael Kramer at the Smithsonian Institute in Washington D.C.
Her collaboration on the 2006 the Marconi Monument restoration, a larger-than-life exterior sculpture refinished in 23k gold, was an example of the versatility achievable with gilded finishes.  Constance's continues to explore the use of reverse gilded glass (Verre Eglomise) on furniture, cabinet faces and decorative wall panels.
The luminous quality of gold and silver leaf on glass draws light into a space.
Constance Laing offers custom finishing and refinishing services for architecture and furniture.